Manage the stress of parenting through Morning Pages, Yoga and the Enneagram.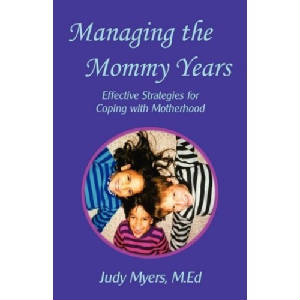 Discover three tools that can dramatically change your life as a Mom. In this candid book, Judy Myers shares three successful tools for managing the trials and tribulations of parenting. A personal guide for Moms by a Mom, Managing the Mommy Years tells how she saved her sanity, her marriage, and her other relationships - and how you can, too. Without a big investment in time, you can reduce your stress, keep your important relationships strong, and find the energy to keep the essence of who you are while keeping your children as your number one priority. As Judy reveals many personal anecdotes from her private journal, you will feel as if you are sitting in front of a fireplace having a heart-to-heart talk with your best friend. The tools Judy describes in detail are writing Morning Pages, practicing Yoga and Understanding Personality Types through the Enneagram.
Morning Pages - Julia Cameron, author of the best selling book The Artist's Way, is the exclusive creator of the Morning Pages. Morning Pages are three pages of longhand, strictly stream-of-consciousness writing (that's every single thing that pops into your mind) that you do as soon as get up in the morning. Writing Morning Pages lets you hear more clearly that little voice inside of you that always knows what is best is for you. Writing Morning Pages will allow you to release all that stressful energy in your mind and body onto the paper.
Yoga - the practice of joining together the mind, body and spirit. The practice of Yoga will lead to a sense of peace, balance and well-being. By physically releasing the tensions in your body, yoga will bring about emotional stability and clarity of mind.
Enneagram - An amazing system that explains personalities with uncanny accuracy. It explains the motivations, desires and fears behind all behaviors. By understanding who you are and why other people do the things they do, you will dramatically reduce your stress.
Read Story Circle Book Review of Managing the Mommy Years
Excerpt from Story Circle Book Review:

by Jennifer Melville

Myers shares the lessons she learned to reduce stress while raising her own three children, and they are both helpful and unique. What I like most about this book is that it isn't like every other parenting book on the market. Myers says, "This is what worked for me," not, "This is what will work for everyone." Not everything she suggests will work in your situation, but many of her ideas are sure to change your life.

...If you are looking for new ways to relieve stress, this is a book for you. while not all of Myers' suggestions will fit your personality or lifestyle, plenty will. it's a book I will come back to time and again, revisiting it's well under-lined pages for ideas to reduce some of the stress that comes with being a mom.
Managing the Mommy Years is available at Amazon.com, BarnesAndNoble.com, and Virtualbookworm.com.
Purchase the book online from Amazon.com
Purchase this book online from BarnesAndNoble.com
Purchase the book online from VirtualBookWorm.com
"Judy has done a fine job of incorporating the Riso-Hudson Enneagram material in a brief, friendly, readable book. The rigors of Mommy-hood are so many that self-knowledge and insight are essential. This book, full of heart-warming, honest examples, will help Mommys know themselves and their capacities better and deal with their kids and all of their relationships more skillfully."
-Don Richard Riso, Founder of The Enneagram Institute
"It is fascinating to read these real life accounts of how Judy Myers' relationships have been transformed by her practical use of her vast Enneagram knowledge. I highly recommend Managing the Mommy Years."
-Author Herb Pearce, The Complete Idiot's Guide to the Enneagram
"This book is a resource for anyone who is or who will be a mother. Regardless of where you are in your Mommy Years, or even if you are waiting for them, Judy Myers offers invaluable tools for every woman looking for her beautiful, authentic self."
-Poet Carly Sachs, the steam sequence, winner of the 2006 Washington Writers' Publishing House book prize
From a mom to moms, an honest account of how a mother engaged yoga and other transformative practices to keep her sanity and contact and embody a deeper sense of Self, while supporting her beloved family...a lovely book."
-Author Sean Casey Leclaire, Hug an Angry Man and You Will See He is Crying
"Judy Myers has written an invaluable book for Moms and, indeed, for anyone who wants to reduce stress and improve all their relationships, including their relationship with themselves."
-Author Sarah Aschenbach, Relationships Made Easy: How to get long with all kinds of people
"Managing the Mommy Years offers readers some very useful tools for sustaining successful family relationships and taking care of yourself at the same time. Judy's warm and personal voice makes this book an easy read and it is filled with excellent advice for how to live a good life."
-Author Michael Aschenbach, VISION 3000: The Transformation of Humanity in the New Millennium
"Mothering can be such an isolated experience. Judy reaches across a mother's kitchen table and says, "I understand. Let me help.'"
-Author Mary Anne Radmacher, Simply An Inspired Life
About the Author
Judy Myers is the mother of three children. She is a long-time yoga practitioner, a certified Kripalu Yoga Teacher, an avid Morning Pages writer, and an Enneagram enthusiast. She holds a Bachelor's degree in Communications, a Master's degree in Education, and is a certified Guidance Counselor.